FSA and HSA Accounts – What Medical Expenses Do These Funds Cover?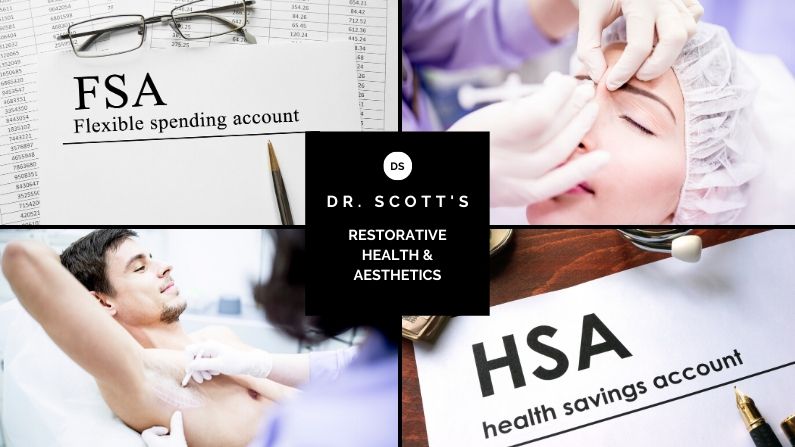 FSA and HSA Accounts – Did you know that many healthcare services and products can be paid with your HSA (Health Savings Account) or FSA (Flexible Spending Account) Account funds?
Every plan is different so check with your healthcare administrator or use this FSA and HSA guide for reference.
If your doctor writes a Letter of Medical Necessity (LMN) or a prescription for treatment or over-the-counter medication that your health insurance or prescription plan does not cover, you may be able to pay the expense with your HSA or FSA funds. The exception is if a treatment or product is deemed for cosmetic purposes only, then generally, it won't be eligible.
It's possible that some or all of the following services available at Dr. Scott's Restorative Health & Aesthetics can be paid with an FSA or HSA card:
Hair restoration caused by an underlying condition.
Scar removal.
Acne treatment.
LED light therapy.
Skincare treatments & products if you have an underlying autoimmune disease.
EDS Wave therapy for sexual dysfunction in men and women.
Vacuum therapy devices for better penile function.
Botox for specific conditions such as migraines or excess sweating.
Hydrating creams if they include SPF or for treatment of eczema or psoriasis.
Drooping brow if a certain percentage of the pupil is covered and impairing vision.
IV therapy for fatigue, mental fog, energy, or anti-aging if prescribed by a physician.
S Wave and cupping for treatment of plantar fasciitis, tennis elbow, or knee, back, or shoulder pain.
Sclerotherapy to treat night aches or cramping and swelling associated with venous disorders.
Treatments for hair, nail, eyebrow, and thin skin issues if caused by anemia or thyroid disorders.
You work hard for your money, so use it, don't lose it!
If you have an account where you lose the unused funds by a specific date (usually 3/15 or 12/31 of each year), you'll want to purchase qualified items before that happens.
With a written prescription or LMN, items such as acne treatments, medicated lotions, sunscreens, and medical supplies may be covered by an FSA or HSA card. Also, if you do have remaining funds in your account, stock up on non-prescription items such as vitamins, supplements, medicated shampoos, and first aid supplies to name a few.
FSA and HSA Accounts
As an advocate for preventative medicine, Dr. Scott Shapiro and his team of medical professionals offer a variety of services geared towards wellness including weight management, bioidentical hormone therapy, age management, and aesthetic procedures such as Botox, fillers, and hair restoration.
Call Dr. Scott's Restorative Health & Aesthetics, and we will be happy to answer any questions you have about a specific treatment or product. Then call your benefits administrator to see if it's a qualified expense if prescribed by a physician.