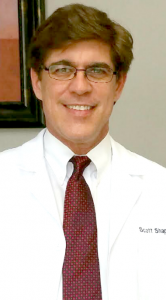 Dr. Scott Shapiro grew up in Dallas, Texas. He attended medical school at Texas Tech University and completed his training in Obstetrics and Gynecology at Emory University Affiliated Hospitals. Dr. Scott has been a board certified Obstetrician and Gynecologist for over 20 years. The most rewarding part of his practice has been seeing the incredible impact preventive medicine has had on the lives of his patients. In 2011, he enrolled in the Preventive Medicine residency program at the University of Kentucky to study this field about which he is so passionate. The rare combination of this training, along with specialization in women's health issues, makes him stand out from most wellness physicians.
He comes to south Charlotte wanting to improve the quality of people's lives through physician-guided weight loss management and bioidentical hormone replacement therapy. Having experienced first-hand the effects of hormone imbalance, Dr. Scott is committed to listening to YOUR concerns with patience and understanding. He will strive to find exactly the right therapy that best addresses your unique health issues.
Accreditations & Certifications:
Board Certified in Obstetrics and Gynecology
Diplomat, American Board of Obstetrics & Gynecology
Fellow, American College of Obstetricians and Gynecologists
Certified Medical Practitioner State of NC
Certified Medical Practitioner State of GA
Certified Medical Practitioner State of KY
Further Training:
World Link Medical- The Academy of Innovative & Preventive Medicine
AMMG – Age Management Medicine Group
A4M – American Academy of Anti-Aging Medicine
American Cosmetic Cellular Medicine Association
Affiliations:
Proud Member of Forever Health Network of Physicians
American Academy of Anti-Aging Medicine
American Cosmetic Cellular Medicine Association
North American Menopause Society
American Medical Association
American Med Spa Association
If you are looking for a personalized plan to help you with your weight, hormone and age management contact Dr. Scott's office at (704) 282-9355 (WELL) or contact Dr. Scott here.