Dr. Scott's Center for Restorative Health Reviews from around the web
---
---
Staff is so incredibly caring. Dr. Scott and his team take their time with each patient going above and beyond. – Charis, July 2020, 5-Star Google Review
---
Dr. Scott is awesome!! What you might see as flaws on yourself, Dr. Scott sees as a foundation to build upon and beautify! He and his amazing staff work as this great, professional, compassionate team, that are there to cheer you on as each step is taken during your transformation. You WILL walk out of the office with your head held higher and a big smile on your face. I truly feel blessed to have found this place! – Allison R., June 2020, BirdEye Review
---
If you want a doctor that will just be a pill pusher and medicate you – go somewhere else. Dr. Scott and his staff truly care. They are going to work really hard to help you, but equally, you will have to put in the work too. I've never been in an environment before where you get as much attention as I have experienced here.
Let me walk you through my journey. I had been working out for 9 months, seeing a personal trainer, eating right, balancing my macros, and never gaining muscle. I was working out 5-6 days a week and getting so frustrated with getting no results and it was almost disheartening and starting to affect my emotional well-being. After being told so much by Google, WebMD, seeing other doctors, and hearing a multitude of different opinions on "what was wrong with me" I was clueless on the next steps. I remember crying one night looking at the slew of google results and feeling hopeless.
Finally, I came across Dr. Scott. I made the call and talked with Richard. He was so kind to answer all my questions, give me an overview of the clinic and its operations and how everything worked. I was really struggling and it was starting to affect my mental health. Richard was so great in answering questions and getting me scheduled. I went and did my bloodwork and then I met with Dr. Scott. It was a great experience. When you are with Dr. Scott, you feel like he has no other patient aside from you because you are his NUMBER ONE and only focus. He was so great in explaining everything to me and discussing my options with me before devising a treatment plan. He then explained the next steps and made a few recommendations on how he thought he could help.
The clinic does sell and offer a lot of different supplements, but they aren't by any means pushing you to them. They give you an overview of what your problem is and then what they think can help, but then it's up to you to take your health care into your own hands.
My journey 6 months (and two days) later- I've now been able to gain 24 lbs while still maintaining a 20% body fat. Something I never saw before. I feel better, I feel better about myself. My mental health is improving. I still work out, I still eat right, and nothing has changed, except my body working at its optimum condition, the way it's supposed to. The level of care by the clinic hasn't changed. They are still responsive, still care, and still focus on the patient.
I'm so thankful to have found Dr. Scott and his team. If you're feeling any kind of way, or unsure, just call. Trust the experts, they will put your mind at ease and truly help you, when Doctor Google will only confuse you- trust me, I know. 🙂 – James S., June 2020, Wellness Review
---
In November 2019. I came to Dr. Scott 120lbs+ overweight! I was at rock bottom depressed and miserable! Literally killing myself with no idea how to stop or fix it. Not only was I addicted to sugar and junk food, I thought they were the only things that gave me any type of happiness. "Temporary of course". After meeting with the good doctor and his staff for the initial bloodwork, I'll be honest, I still had no confidence I could really change my life the way I needed too.
But here's the thing, Dr. Scott and his staff have a way of breaking it down at first where it doesn't feel so overwhelming. Adjusting the HCG shots until it curbs your appetite somewhat. But let me be perfectly clear, it's not some magic shot that does it for you, it's hard! You have to be accountable and do the work. It's not always easy, especially at first. But if you follow the plan Dr. Scott lays out and are honest with him as well as yourself. It'll WORK!! He gives you all the tools you need. Plus Dr. Scott genuinely cares! He goes above and beyond to adjust any little detail, no matter how small. He takes the time to explain every aspect of the process. Even things like how your personal hormones along with your bloodwork levels all play a part in your overall success.
My bloodwork revealed my testosterone levels were below normal for my age group. He gave me all the options and created a plan for me. After working with me for a couple of months, I'm proud to say my testosterone levels are now perfect! I feel so much better in ways I didn't even realize I could.
Ok so, I saved the best for last. As of today, March 27, 2020, I've currently lost 100lbs!!!!! I maintained my weight loss after completing the HCG diet. By following exactly the post-plan Dr. Scott laid out for me. I've even continued to lose weight within my one-year overall weight loss goal.
Dr. Scott and his staff completely changed my life. I literally owe him for saving it. I consider the good Doctor a friend at this point.
If you're really ready to do whatever it takes to get healthy and change your life. Then take it from me, go see Dr. Scott! Listen to every word he says! Do exactly what he tells you to do no exceptions! Be accountable for yourself!!
And I guarantee that in three months you'll be amazed at what you've accomplished!! Just remember, you can do anything for three months!! ~ Zackary M., March 2020, Wellness Review
---
"I am a very happy patient of Dr. Scott's! My procedures were the Vampire Breast Lift with threads and I also had the O-shot with PRP. Dr. Scott is the most generous, kind, and gentle person with a genuine heart for his patients. All his office staff are sweet and accommodating. I highly recommend Dr. Scott for all your cosmetic and rejuvenating needs!" ~ Theresa S., February 2020, 5-Star Google Review
---
"Dr. Scott is the best!! I received a micro-needling treatment today, and I couldn't ask for better care. He always uses the best products and pays close attention to detail. I've gotten so many compliments on my skin since my first treatment with Dr. Scott in October." ~ Maggie R., February 2020, Yelp Review
---
"The most caring doctor and staff. I had a laser procedure here and couldn't be happier! They kept me comfortable with laughing gas and numbing cream. Now my face is glowing. I do have one more treatment. Thank you, Dr. Scott." ~ D., February 2020, Wellness Review
---
"OMG!! I just left the office of Dr. Scott after having the PDO threads procedure. It was AMAZING! The results were immediate! I just turned 60 and was not ready for a full surgical facelift. This looks very natural and no unnecessary anesthesia. The discomfort was pretty much what I had expected but Dr. Scott and Beth were great in making sure I was as comfortable as possible. Dr. Scott is a perfectionist and exactly the kind of person I want when I'm having something done to my face. Back in 2 weeks for a follow-up and any additional touch-ups if necessary…Great experience." – Denise B., February 2020, 5-Star Google Review
---
"Dr. Scott and Sandra are wonderful!  They took the time to listen to my needs and educate me on different options for a more youthful appearance.  Using both filler and botox they gave me the look that I was envisioning.  I feel absolutely beautiful.  I trust them 100% with all my cosmetic and anesthetic needs." ~ Deb I., February 2020, Yelp Review
---
"After a few years exploring options for hormone replacement, I heard about Dr. Scott's in Indian Trail. I made an appointment for a consultation and he (Dr. Scott and his staff Beth) made me feel like family. They listen, for one thing, they CARE about you and your health goals, your health concerns are their first priority when you became a patient of theirs. I would HIGHLY recommend Dr. Scott to anyone that is looking for hormone replacement therapy or any of the services his practice and staff offers." ~ Derrick R., January 2020, BirdEye Review
---
"I didn't know what to expect when I made my appointment but let me tell you, Brittany is incredible!! She customized a facial to help me with my skincare goals. She was very sweet and attentive!! After, my skin was a little sensitive but I woke up with an even complexion and clear bright skin!!!! I will come back." – Joelle T., January 2020, 5-Star Google Review
---
"Superior to all other practices! This is no exaggeration. I have lived in several different states and major cities. I have had cosmetic procedures before and I have never had such a positive and pleasant experience as I did with Dr. Scott and his staff.
Dr. Scott sat down with me and created a customized plan to achieve the desired results. He gave me several different options in procedures and went so far as to consult another doctor in a different practice. Dr. Scott created a plan uniquely tailored to my needs. Dr. Scott's friendly demeanor makes me feel like I'm under the care of a trusted family member. His entire staff is always welcoming, supportive and knowledgeable. It is quite obvious that they all love what they do and take pride in doing an amazing job.
I am currently going through a series of Scarlet Radio Frequency treatments. These treatments will help eliminate fine lines and tighten up loose skin. I can already see the amazing results! In addition to this, I am also receiving Dermaplaning facials from Brittany. My skin has never felt so soft or looked so illuminated!
I give the highest recommendation possible to Dr. Scott and his staff! It's like going to a 5-star spa! In fact, I have handed out their business cards to my family and friends. If you are interested in any cosmetic procedure provided by Dr.Scott, you'll no doubt, be impressed by the care, treatment, and staff." ~ Julie M., January 2020, BirdEye Review
---
"Brittany is amazing. During my visit, she was thorough in her explanations of what procedures/products would be most beneficial for my skin. She was patient in answering all of the questions I had, and she shared so much knowledge with me about how products work, and what to look for when buying skincare on my own. Throughout the procedure, her presence was calming as she talked me through what was happening, what to expect, and how to properly care for my skin after the peel was completed. She is professional & and incredibly conscientious. Not to mention such a pleasure to be around. I highly recommended scheduling an appointment with Brittany- you'll love how she will enhance the beauty of your skin!" ~ Shannon T., January 2020, BirdEye Review
---
"Dr. Scott always goes the extra mile to give me the best experience possible. I have been driving from Raleigh for my treatments, I've had great results with micro-needling, LED light therapy, Neogen Plasma to Scarlet Radio Frequency. It is always worth the drive because of the quality of care is so different from other practices. He has always been so helpful at creating a customized treatment plan to help me reach my aesthetic goals. Dr. Scott and his team are outstanding!" ~ Lori S., December 2019, BirdEye Review
---
"I recently moved to Monroe and had been seeing a Doctor in Charlotte for my testosterone treatment but it was now too far of a distance. Early on there was confusion due to my previous doctor making it difficult for Dr. Shapiro and his staff to get my records. Dr. Shapiro and his staff were fabulous. Dr. Shapiro went as far as to email me himself and even calling me after hours to get to the bottom of some issues that were just misunderstandings through communication and delays from my previous doctors' office. This practice is so patient and beyond willing to help you get back to feeling your best. I have never dealt with a doctor like Dr. Shapiro who will deal with you directly to ensure you are taken care of. I'm very pleased that we were able to work it out in the end and I highly recommend anybody to give Dr. Shapiro and his staff an opportunity as I can't see how in the end you won't be very pleased with your experience." ~ Matt G., November 2019, BirdEye Review
---
"I was so ecstatic and relieved when I found Dr. Scott's office!!! I came in to have Botox done and Dr. Scott and Sandra were so accommodating to my needs. They took the time to answer my questions and hear my concerns. They even offered me water or coffee. I've only ever had Botox done at another office that gave me a terrible experience but at Dr. Scott's it was like a breath of fresh air to have someone really hear what my needs are. The office is quite busy and clean and the office staff is so friendly. I even saw they do have other services such as hormones and weight loss. I will never find another place as great as Dr. Scott's. I'm here to stay with them!!!" ~ Megann B., November 2019, Yelp Review
---
"I received the NeoGEN PSR treatment, and I had the most amazing experience and results! Dr. Scott went above and beyond to make sure I was comfortable during treatment by providing me with various cooling creams, Pronox, a soothing collagen face mask, and LED light therapy. He pays extremely close attention to detail and really cares about his patients' needs. Very friendly staff as well! It was definitely worth the drive from Raleigh, and I will be returning to Dr. Scott for all future treatments!" ~ Maggie R., October 2019, Google Review
---
"I love Dr. Scott and all the staff! Dr. Scott truly cares about results and comfort during and after procedures. I look 10 years younger than I did prior to the procedure! I never could have imagined I could look this young without having surgery. Thank you, Dr. Scott, for caring and giving me results above and beyond what I EVER could have imagined! With Gratitude, Your Forever Patient, Lisa H :)," ~ October 2019, BirdEye Review
---
"Dr. Scott and his staff are incredible! Dr.Scott is the first doctor to really take the time to get to know me and assess my health issues with the utmost care and support that I have ever received. He and his staff genuinely care about their patients and take the time to listen and provide feedback so that they can get to the root of your problems. I have suffered from Hypothyroidism for years, and I have tried to find a doctor that would take the time to help me feel my best. I am ever so grateful and blessed to have found his practice." ~ Tracy P., October 2019, Recommendation on Facebook
---
"I have a huge fear of needles and this was my first Botox treatment. Sandra put me at ease and walked me through an amazing process, making me feel safe and comfortable! Can't wait to see my results. Thank you so much, Sandra!" –  Lorena N., September 2019, Recommendation on Facebook
---
"If you truly want to regain your "healthy" feeling back, whether you are male or female, go to see Dr. Scott. He will not gloss over or skip anything until he finds your problem. He looks at the "whole person". Mind and body. He wants you to feel good no matter your age." ~ Donna G., August 2019, Recommendation on Facebook
---
"From my 1st phone call to meeting with the staff, then Dr. Scott about injections, the experience was great all the way! They never tried to push other services on me but educated me on the availability and benefits of things, like their weight loss program. Very friendly, welcoming, comfortable environment!" ~ Jackie B., July 2019 Groupon Review
---
"My first visit was on June 11, 2019. Dr. Scott seems to go beyond the typical cookie-cutter approaches to wellness and focuses upon individual needs. The staff is very friendly and helpful. I am glad that I found his medical practice for helping me with my hormone needs." ~ Carolyn H., June 2019 BirdEye Review
---
"I had a PRP procedure with micro-needling done with Dr. Scott and I could not be more pleased.  
My hair had been thinning with my hairline receding over the past few years and the PRP treatments stopped the hair loss while stimulating hair growth.
Dr. Scott made me feel very comfortable from pre to post-procedure, he called me personally after the procedure to answer any questions I had and to put my mind at ease.
The office is clean, beautiful, high tech and the staff is so attentive, caring and accommodating to ensure I was comfortable.
Overall, excellent experience and result! 10/10 would definitely recommend Dr. Scott and his staff as they are absolutely fantastic!" ~ Levent K., Yelp Review, May 2019
---
"I can't say enough about the wonderful treatment I have received here. Dr. Scott's sense of humor made him feel very approachable. He told me things about my health condition that regular docs and chiros. Couldn't figure out for years! His testing was the most thorough I've EVER received and he even sends a copy of them to you after your visit along with complete notes of your visit and explanation of labs to keep on file. I was worried about my insurance not reimbursing because the initial visit wasn't cheap, $395, I think. They did reimburse for my labs and part of the visit. The staff are very knowledgeable and down to earth. I'm already feeling so much better after 6 weeks. I know I have a long way to go, but I've finally found the right doctor. Thanks, Dr. Scott and staff." ~ Grace, Google Review, May 2019
---
"Hi, I was in the medical field for 36 years, I have met and worked with a lot of MD's. I have never met a doctor who was so caring and understanding of what I am going through! I am very impressed with him and his fantastic staff." ~ ROBIN S., Birdeye Review, May 2019
---
"I had PRP done at Dr.Scotts office and I see a difference in performance and erection. Very professional and knows what he is doing. All the staff are friendly and professional too. I would recommend him." ~ Ben, Birdeye Review, May 2019
---
"I LOVE Dr. Scott's. I could tell that Dr. Scott really cared about helping me to feel my best." ~ Beth V., Birdeye Review, May 2019
---
"Love this place! Great staff." ~ Carolina M., Birdeye Review, May 2019
---
Recommendation on Facebook by Wes T., April 2019
***PRP Vampire Facial Wizardry***
Guys… I am literally in amazement right now… I'm sort of embarrassed to post my before pics, but this is a MUST:
Sooo, I went to Doctor Scott Shapiro in Indian Trail, NC for a free consultation regarding sudden adult acne, scarring, and facial hair loss (beard). After visiting multiple dermatologists with little to no results, I decided to seek another opinion – and thank GOODNESS I did!
I am 32 years old, in fine health, and never had any issues with complexion (even in high school). 1 year ago I noticed changes in my skin and attributed it to my aging. I started breaking out, nothing would heal, and I lost most of my facial hair.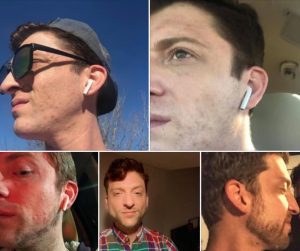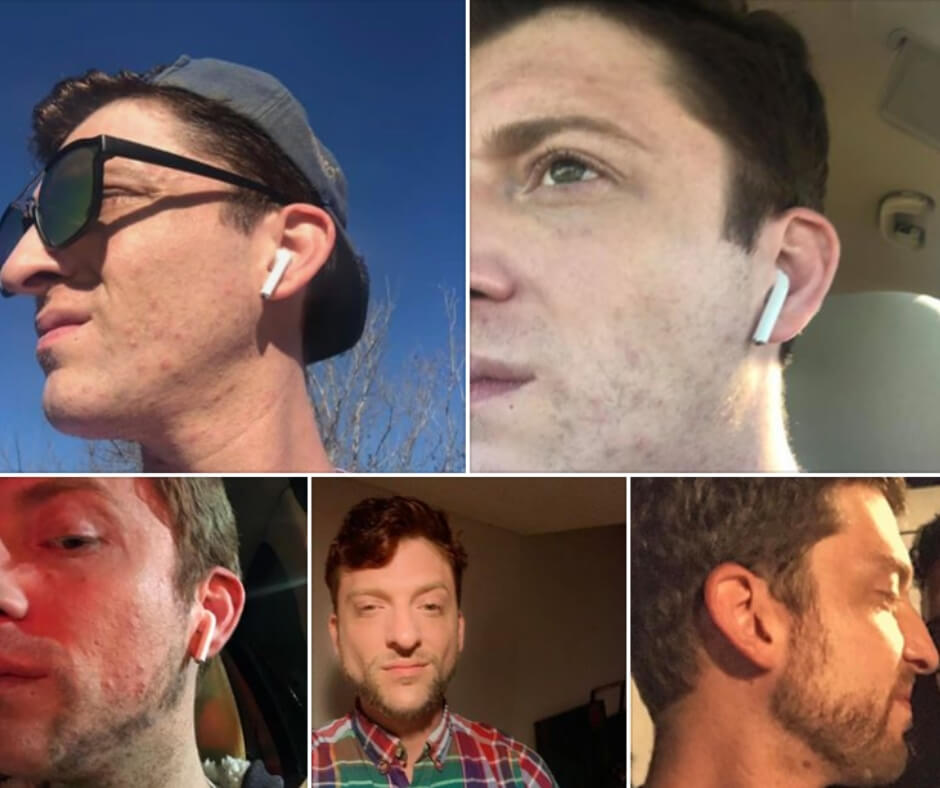 I remember thinking, "Boy, they weren't kidding about age hitting you overnight." Sorry for the lengthy post. I am just so excited about the results. I'll cut to the chase:
After ONE PRP Vampire Facial, my breakouts ceased.
After PRP Facial #2: super-noticeable healing, scarring lightened, major evenness in skin tone, and texture improvement.
***PRP #3: still no breakouts, skin bounces back, ANDDDDD
¡¡¡MY BEARD IS GROWING BACK!!! Literal wizardry, folks.
There are a ton of gimmicks out there and Drs concerned with bottom dollar vs. the patient… I'll stop blabbing and let the photos speak:
First two pics are before. The third is after a second treatment. The rest are "now"
---
5-Star Review on Google by Samantha K., April 2019
"I wanted to treat myself nearing my 30th birthday with botox or fillers. I was SUPER nervous, but Dr. Scott's staff was AMAZING. They answered all my questions over the phone even before I made my appointment. Once I arrived I was walked through every single step before anything was done. I was immediately set at ease. I HIGHLY recommend this place!"
---
Recommendation on Facebook by Ronay K., March 2019
"Sandra did the most AMAZING brow lift with my Botox! Been doing Botox for 20 yrs and she did the best work on my crows feet and forehead! She also took the time to educate me on a few things to improve the texture of my skin without trying to "sell" me as so many other aestheticians do. Looking forward to coming back for other services and that says a lot considering I live in Asheville!"
---
Recommendation on Facebook by Rhonda J., March 2019
"Dr. Scott is great. Always smiling and welcoming. Great staff and Services. I highly recommend."
---
Review on Groupon by Karen R. – read on
BirdEye
:
"Very professional shop. I purchase my b12 Lipo shots for an extra boost of energy. The office is pleasant and the staff members are very engaging. Never a long wait with a scheduled appointment. High recommend their services."
---
5-Star review on
Yelp
by Antoinette K. ~  12/15/2018
"THANK YOU soooo much, you all are lifesavers!!!  You helped my menopause, low thyroid, near zero energy with BHRT and supplements, I can function again after being miserable.  The last one you prescribed really did the trick– I can see my waistline again and love the way my mid-section looks now. Oh and I can think again!
Dr. Scott, Beth, & Richard all are extremely knowledgeable, caring, and courteous — love you guys 🙂"
---
5-Star Review on
Google
by Carmen ~ November 2018
"I cannot say enough fabulous things about Dr. Scott and Beth. I have been on bio-identical hormone replacement therapy for 8 years after having a hysterectomy at a young age. I have seen many physicians for treatment, however, none were able to get to the root of my problems that started years before the hysterectomy. Dr. Scott has put countless hours into finding all of the answers and then planning the treatment. I am absolutely beyond grateful, thankful and beyond blessed to have found such a genuine, caring doctor that is determined to help you live the fullest and healthiest life possible."
---
5-Star Review on Wellness by Kathy ~ August 2018
"I'll start by saying I don't have much faith in doctors. When I decided to see Dr. Scott I was at the point of desperation and knew I needed a fresh approach, no more prescriptions that didn't help or another doctor that wouldn't hear me. I am 40 years old and after my tubal things began to shift hormonally then after a complicated surrogacy I had to have a hysterectomy which means immediate surgical menopause. I'll shorten this up by saying Dr. Scott brought me back to life, to my old self! My first visit I knew I had found hope and help, finally!! He has helped me to lose 20 pounds and still counting. He diagnosed my low thyroid where no other MD would and he treated it. He realigned my hormones and I feel alive again and happy. No more headaches, no more hot flashes, no more fatigue and yes, my libido is back too. He even allowed me to return supplements I didn't end up using (I'm hard headed)…What doctor does that?  This man is absolutely positively for his patients 100%. I will conclude that after all that, I took the leap for a Vampire Breast Lift and not only am I very pleased with his work afterward, I will also add how very professional, kind and understanding he was. Even calling me while I was on vacation to check on me a couple days later. His entire staff is exceptional. Dr. Scott runs a tight ship and knows his stuff. You can't put a price on feeling alive and understood. His care is worth every penny. I literally can't say enough extraordinary things about Dr. Scott, saying thank you just isn't enough."
---
5-Star Review on Facebook by Kathy S. ~ 8/31/2018
"To feel alive again is priceless! Dr. Scott has helped me SO much. He listened and then he took care of me, where other doctors didn't. I finally lost the weight that I couldn't on my own for years. He corrected my hormones after my hysterectomy and for the first time in years, I actually feel alive and vibrant again. Dr. Scott's level of care, concern, and knowledge surpasses all of my past medical care experiences with other physicians. He is the one you want, believe me! Thank you Dr. Scott!!"
---
5-Star Review on Wellness by Deborah M. ~ 8/1/2018
"This review is long overdue. I moved here from South Florida a few years ago and was being treated there with Bio-identical hormones so when I moved here I was in search of a doctor who had the same treatment philosophy that I was used to. I did a search and found Dr. Scott. Dr. Scott and his staff are all amazing! They are personable, friendly and more than helpful. Dr. Scott has even called me himself to make sure everything was okay with me. He is the most genuine doctor I've ever met. He is honest and straightforward. I wouldn't go anywhere else. Looking forward to going in for a consultation with Dawn soon for a Rezeneration facial. I trust Dr. Scott and his staff completely!"
---
5-Star Review on Google by Mike C. ~ June 2018
"Came here to get my hormones straightened out. I got on testosterone therapy and decided to try the shockwave treatments for ED. Any men still on the line about whether or not to try it….Just DO IT. Noticed a difference right away. The staff is great and everyone made me feel welcome and comfortable."
5-Star Review on
Google
by Terry V. ~ 5/15/2018
"Great staff very helpful."
---
5-Star Review on Google by Angie D. ~ March 2018
"I had gained a lot of weight in a few years leading up to my decision to visit Dr. Scott. My joints and muscles ached. Dr. Scott put me in a weight loss plan and supplements. I lost the weight we determined. I stayed on the supplements and I noticed my aches went away, my eczema cleared up. The supplements weren't for weight loss. Having the right hormonal balance gave me back myself. It is about eating healthy but so much more than that our hormones play an important factor in achieving our goals and/or being well in general. My money was well spent."
---
5-Star Review on Google by Charity H. ~ 3/14/18
"My family doctor said I was not in menopause even though I had a hysterectomy years prior and was experiencing all the symptoms. Also I had begged for a cortisol test because our family has been under a great deal of stress for nine years …MoreMy family doctor said I was not in menopause even though I had a hysterectomy years prior and was experiencing all the symptoms. Also, I had begged for a cortisol test because our family has been under a great deal of stress for nine years since our two-year-old son come down with encephalitis. She declined. I went to Dr. Scott who listened and took my symptoms very seriously. He did the tests, even the cortisol and found that not only were my hormones a mess but I was in adrenal fatigue. He put me on the right doses of hormones and supplements and literally saved my life!! This man is far more than a doctor he is a man with a heart, a listening ear, compassion and caring that has changed my life for the better!"
Read the review on BirdEye: https://birdeye.com/doctor-scotts-health-and-wellness-147862994103073
---
5-Star Review on Google by Leah O. ~
"What a wonderful experience! The staff was super friendly and helpful. A fantastic support group! I would highly recommend this office for anyone considering doing the HCG diet. I can fit into my skinny jeans again!!!!"
---
4-Star Review on Google by K G ~
"I had many "male" issues before contacting Dr. Scott. He and his staff went above and beyond to make me feel comfortable and I am feeling 110% better than ever! I wake up feeling like a teenager again every morning and I'm 30 years past those golden years. Thank you, Dr. Scott, for your care and time and genuine concern for me."
---
Excellent review by Jo A., via BirdEye
Dr. Scott and his staff are wonderful, I would recommend him 100 %
Read review at BirdEye https://birdeye.com/doctor-scotts-health-and-wellness-147862994103073/review/69828771548432413
---
Excellent review by Markus, via BirdEye
Very professional staff that is very welcoming and proficient. Dr. Scott is very patient and thorough with your situation and possible solutions. He spends the extra time making sure you are confident moving forward to a better you. He has your best interests at heart.
Read review at BirdEye https://birdeye.com/doctor-scotts-health-and-wellness-147862994103073/review/60375399541321975
---
---
Excellent review by William W., via BirdEye
The best I've felt in years! My energy level is great, and my concentration is razor sharp. I highly recommend Dr. Scott.
Read review at BirdEye https://birdeye.com/doctor-scotts-health-and-wellness-147862994103073/review/50229166534542840
---
Excellent review by Ivy, via BirdEye
My visit was GREAT! Everyone was so caring and friendly. Dr. Scott really listened to my needs and was able to decide on the right plan for me. THANKS AGAIN!!!
Read review at BirdEye https://birdeye.com/doctor-scotts-health-and-wellness-147862994103073/review/45410966533417142
---
Excellent review by Julya, via Facebook
Dr.Scott is the BEST!!! The absolute best when it comes to hormones!!!
Read review at Facebook https://birdeye.com/doctor-scotts-health-and-wellness-147862994103073/review/38478787528421290
---
Jannine was professional and made me feel at ease during my treatment.  Excellent job.  I am very selective on who injects me since I inject as well.  She met all of my expectations and more.  Thanks again Jannine! ~ * November, 2016
---
The HCG diet really works! The staff here is excellent and very caring. Really happy with the results and eager to do another round.
~ * Ann Martin, October 2016
---
Dr. Scott and his staff made me feel I was in the right place for help and took the time to explain everything when I had a question, never made me feel uncomfortable. They truly care about the welfare of their patients and make it a pleasant visit each time. Dr. Scott and his wonderful crew have helped me loose weight and get my hormones in check. I am definitely feeling better about myself and will continue to improve! Thanks and what a Blessing you all have been to me!
~ *Pamela B, March 2016
---
Although today was my first visit to Dr. Scott I can already say he is the one I have been looking for for along time. The doctor is honest and explicit. He gave me the time to explain my issues and focused on some details that I wasn't aware of. I felt very satisfied and that does not happen to me often. All I can say is that I would definitely come again.
~ *Faisal Asiri, November 2015
---
I had a great experience with Dr. Scott and his staff. Dr. Scott is very informative and extremely easy to talk to. With his help, I was able to lose weight and reach my goal. I continue to visit for B12 shots. The entire office staff is fabulous. Appointment times are flexible. They offer many programs to meet your needs. Highly recommend!
~ *Sue S, November 2015
---
I visited Dr. Scott's office last Tuesday, April 14th, that was my 1st visit and it definitely will not be my last. I suffer from a hormonal imbalance and Dr. Scott saved my life. He gave me such positive feedback. Not only was he sympathetic to my symptoms he assured me that I will feel better. What I love about Dr. Scott is that the hormone replacement therapy treatment is all natural and it is solely designed for each individual. Dr. Scott has a wonderful staff as well. I am so grateful to have found such an amazing doctor. I highly recommend Dr. Scott to anyone who is suffering with a hormonal balance. There is a light at the end of the tunnel! You are the best Dr. Scott!
~ *Deborah Worrell, April 2015
---
I had a great experience with Dr. Scott and his staff in fact I continue to visit for the B12 shots and for accountability. I had a back injury with a 70 pound weight gain. I rarely took photos, but I with these great folks have lost many inches and 61.9 pounds. I have more confidence and have started feeling much better about myself. I love what I have been able to do with their program and in the last 10 months. I encourage anyone that wants to change their lives and keep it off to give them a try they are well worth your time and money. They have many programs to meet your needs.
~ *Stacy Sabol, March 2015
---
I tried Dr. Scott after using other weight loss methods. My experience was absolutely fantastic. Within 23 days, I lost 20 pounds! I was so excited. Dr. Scott is a wonderful doctor who really cares about his patients and their well being. I would definitely recommend him to anyone who is serious about losing weight!
~ *Sylvia Cole, March 2015
---
Dr. Scott is very personable, informative and extremely easy to talk to. With his help, I am achieving healthy, realistic goals while working toward a better weight and a more physically fit lifestyle. The entire office staff is fabulous. Appointment times are flexible and work around my schedule.
~ *Kimberly Austin, February 2015
---
The whole staff is wonderful and I am having great success with both the weight loss and the HRT.
~ *Lynda Reilly, February 2015
---
Great Dr. and awesome staff! Dr. Scott spends a lot of time. I never felt rushed or like any question I had was too trivial. Recommend!
~ *Tomas Ford, November 2014
---
I rarely leave reviews for any businesses. This is an exception for me. The level of care, compassion and service from the whole staff was such a blessing to me in starting to make positive changes in my life. I had hormone issues that no one else seemed to figure out. Other doctors just told me I was crazy. Dr Scott was really patient in helping me get the right treatment. I have never felt better in my life. I know God sent me to him for a reason. Everyone sees such a big change in me. Thank you Dr Scott and all the girls
~ ANDREA, Wellness.com, August 2015
Leave Us a New Review
Click on any icon to be taken to our profile where you can leave a new review. Choose whichever review site is best for you.
We appreciate you taking the time to help us spread the word!
---
*Individual Results May Vary