What is Medical Weight Loss? An Insight into Dr. Scott's Restorative Health Solutions – In today's weight-centric world, it's easy to get lost in the myriad of weight loss solutions. However, medical weight loss stands out as a uniquely tailored approach, and no one understands this better than Dr. Scott's Restorative Health in Charlotte, North Carolina.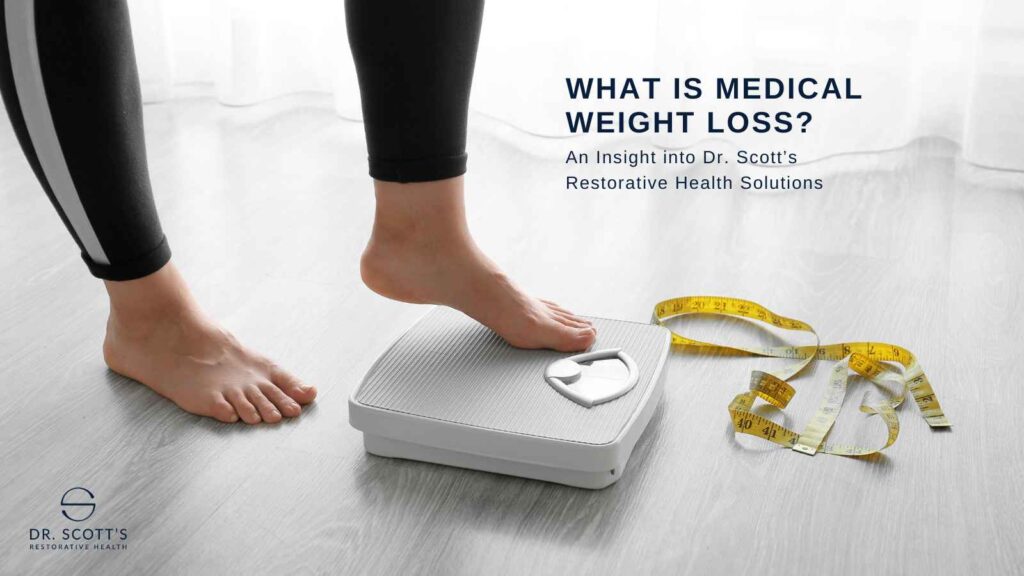 So, what is medical weight loss?
Unlike fad diets and over-the-counter supplements, medical weight loss combines medically supervised treatments with ongoing support to ensure both safe and lasting results.
At Dr. Scott's clinic, several options are available to individuals seeking a healthier lifestyle:
HCG Injections – A hormone therapy that can help reset the metabolism and promote weight loss.
Semaglutide – An FDA-approved medication known to control appetite and help reduce body weight.
Tirzepatide Max – A step above the rest! We've fielded numerous calls about the benefits of Mounjaro® (Tirzepatide- generic name), a renowned dual GIP/GLP-1 receptor agonist. But Dr. Scott's formulation is a cut above. By infusing BPC 157, a compound recognized for mitigating nausea and addressing various GI issues like gastritis, IBS, inflammatory bowel conditions, and leaky gut, we offer a superior product. BPC 157 also boasts anti-inflammatory properties, is neuroprotective, and accelerates wound healing. Hence, we fondly call our special blend Tirzepatide Max!
Appetite Suppressants – Medications that can help curb hunger and assist in weight management.
Lipotropic Injections (Lipo-B) – These injections are designed to enhance the liver and gallbladder's role in decreasing fat deposits and speeding up metabolism.
What sets Dr. Scott's approach apart isn't just the diverse range of treatments.
Every patient receives the full spectrum of support, from dedicated medical care to tailored diet plans and delicious recipes. You're never alone on this journey – you'll find encouragement, guidance, and the assurance of safety every step of the way.
In conclusion, medical weight loss isn't a mere trend; it's a comprehensive approach to wellness. And with Dr. Scott's Restorative Health, you're in expert hands, ready to embark on a transformative journey towards better health.
Contact us today to learn more about how these treatments can benefit you at 704-282-9355 or schedule an appointment here.
Please find us on Facebook and Instagram to keep up with our specials and offerings