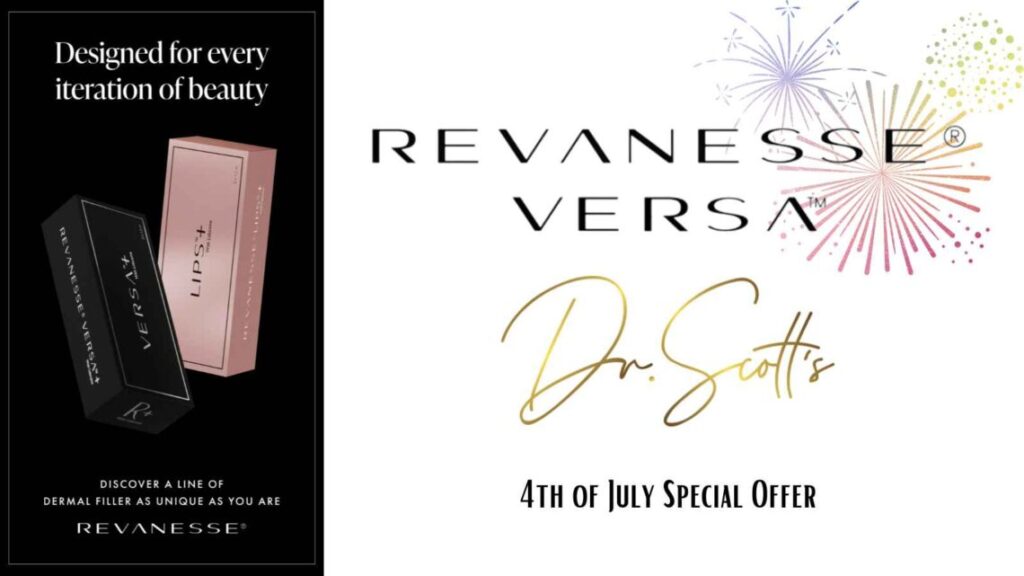 Ignite Your Independence Day with a Revanesse Versa Special Offer in Charlotte NC: Your Gateway to Natural Beauty – As we count down to the most festive summer holiday, we invite you to let your beauty burst like fireworks this Independence Day! At Dr. Scott's, we're excited to help you achieve your aesthetic aspirations safely and effectively with our top-rated filler – Revanesse Versa.
Revanesse Versa is your passport to a refreshed, more youthful appearance. It can be expertly applied to a range of areas, including lips and jawline, offering natural-looking and long-lasting results.
But why should you choose Revanesse Versa?
Here are three reasons this filler is for you:
1. Natural Look & Feel: Versa offers soft, subtle enhancement that feels as good as it looks. You won't just appear more youthful – you'll truly feel it, too!
2. Less Swelling: Compared to other fillers, Versa's advanced formula has been clinically proven to result in less swelling, getting you back to your regular routine faster.
3. Long-Lasting Results: Don't you love when your investments pay off? Revanesse Versa's results can last up to a year, giving you the most for your money.
Revanesse Versa Special Offer in Charlotte NC
And now, the sparkling news you've been waiting for! In the spirit of the 4th of July, we're offering a special promotion: when you purchase one syringe of Versa, you get $50 off the second one. This incredible offer ends on July 4th, but don't worry – you can redeem your purchase anytime through October.
At Dr. Scott's, your safety is our priority. We are known for our careful approach to filler application. Dr. Scott is dedicated to preventing filler migration and occasionally recommends multiple sessions for procedures like lip or jawline enhancement. This meticulous approach ensures a safer procedure with optimal results.
This Independence Day, declare your freedom from aging and embrace a hotter, more youthful you with Revanesse Versa! Contact us today at 704-282-9355 or visit us at DoctorScotts.com to schedule your consultation and take the first step towards a new, radiant you. Here's to a beauty-filled summer!
Please find us on Facebook and Instagram to keep up with our specials and offerings.