Monthly Testosterone Delivered to Your Door – Testosterone levels in men naturally decrease with age, but sometimes, the dip goes below the norm, leading to various health problems. If you're under 40 and part of the 40% who suffer from low testosterone, you'll be interested in Dr. Scott's T-Zone Therapy, a simple and cost-effective solution to your hormone troubles, delivered to your doorstep for just $159/month.
Monthly Testosterone Delivered to Your Door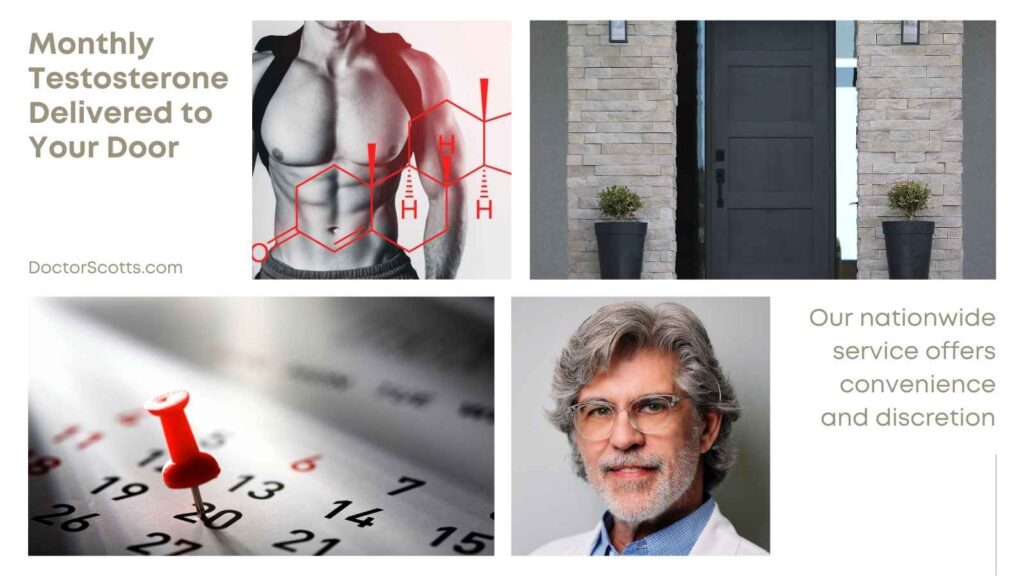 Our Service
Our nationwide service offers convenience and discretion, ensuring you receive your treatment privately and without any hassles. How do you know if hormone therapy is right for you? We've got a three-step process to find out:
Step 1: Visit our website and request the electronic questionnaire. Fill it out in your own time; it takes less than 10 minutes.
Step 2: We assign you a dedicated Testosterone Consultant after your form's reviewed. You'll get a comprehensive overview of the program, your questions will be answered, and a lab requisition for a partner drawing site near you will be sent. Once your labs are drawn, a virtual consult is set up with Dr. Scott in about two days.
Step 3: During the consult, Dr. Scott will go over your symptoms, history, and lab results, recommending a treatment plan if you qualify for the T-Zone Therapy. Your prescription will be filled by our US compounding pharmacy specializing in hormone replacement and shipped directly to you on a scheduled basis.
Inclusive T-Zone Therapy Program
The inclusive T-Zone Therapy program costs $159/month, covering Testosterone Injections, basic follow-up labs, Anastrazole (if needed), all syringes, mixing solution, and even alcohol swabs. Shipping? It's on us! If you need HCG, a prescription will be provided. No monthly office visits are necessary! Consultations can be held virtually or over the phone, but you're always welcome in our clinic.
We charge a one-time $399 fee for your initial paperwork, which includes basic labs, a review of history, symptoms, and comprehensive consultation. The program continues automatically each month, with charges and prescriptions processed and mailed out in the first week.
While the benefits of therapy are best experienced over a longer period, we ask for a minimum commitment of 5 months. If you need to cancel afterward, give us a 30-day notice.
Reclaim your vitality and live your life with purpose again. Try the T-Zone Therapy today. Call now at 704-282-9355 if you have any questions.