NOW OFFERING
SEMAGLUTIDE
Semaglutide for Weight Loss: A Game-Changer for Men and Women
Semaglutide is a revolutionary medication that has shown promising results in helping men and women achieve significant weight loss. Discover the benefits of using Semaglutide as part of your weight loss journey.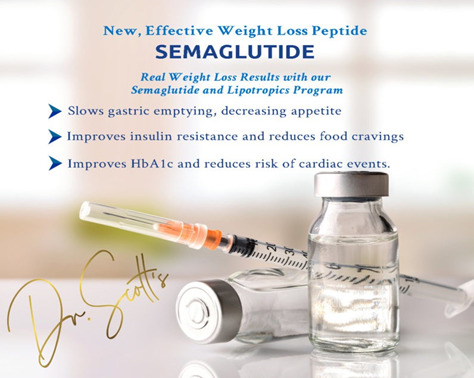 Critical Benefits of Semaglutide:
FDA-approved for weight loss
Originally developed to treat type 2 diabetes
Effective for both men and women
It helps control appetite and food cravings
It can be used alongside a healthy diet and exercise
How Semaglutide Works:
Mimics the hormone GLP-1, which regulates appetite
Acts in the hunger centers of the brain to reduce hunger
Delays gastric emptying, providing feelings of fullness after meals
Promotes weight loss by reducing overall calorie intake
Dosage and Administration:
An injectable medication administered once a week – virtually painless
Gradual dose escalation to minimize side effects
Possible Side Effects:
Nausea, vomiting, or diarrhea
Abdominal pain or bloating
Headaches or dizziness
Considerations and Precautions:
Not suitable for individuals with a history of pancreatitis or diabetic retinopathy
It may not be appropriate for those with certain medical conditions or taking specific medications
Weight loss results may vary depending on individual factors
Patients with a personal or family history of MTC or patients with a specific diagnosis of Multiple Endocrine Neoplasia Syndrome Type 2 (MEN 2) are non-candidates
Take the first step towards achieving your weight loss goals with Semaglutide. Speak with Dr. Scott today to determine if this innovative treatment suits you.
What is the Price?
Our all-inclusive three-month, physician-supervised (12-week  program) price is $1599. Our Terzepatide Max program is $2695 for a 4-month program (16 weeks). Because of supply chain issues, these costs may vary, so you should call the office to confirm the latest pricing.*
Pricing*
Our weight loss injection programs are priced as a COMPLETE weight loss program and not just a "price per vial." Pricing varies depending on if you've been on a GLP-1 program in the past, what your starting dose will be, and many other factors. Our programs are available either as a "Monthly Plan" or, for a discount, a "Three-Month Plan"*.
What is the Process to get Started?
We make it simple!
Fill Out Paperwork
Attach a copy of the labs we require, or arrange for a requisition to be sent to have labs drawn, which are for a CBC, CMP-14 (electrolytes, liver function tests, kidney function), TSH, Lipid Panel, Insulin, and Hemoglobin A1C.
We will try to get you on the schedule within the same week!
You'll have a REAL Physician Visit, where Dr. Scott actually reviews your paperwork in depth, including medical history, current medications, current health conditions, goals, and more. He will discuss options with you and be SURE you understand the nuances of dosing, type of diet, and other lifestyle factors that may play into your success with the program.
You have a dedicated coach who will meet with you by phone each week, if desired, to guide you during your weight loss journey. They are also available by text or video, should you need us in between your visits.
Our program includes a personalized app that lets you track your weight loss and measurements, sends you recipes, lets you download your shopping list and a journal, upload pics of your weight loss success, track calories, and syncs with Fitbit and more. This app is private for YOU. We cannot see any of your information unless you make it shareable with us. For example, if you hit a plateau, you may share your food journal to help you troubleshoot your diet. If you decide to share your before and after pics, we LOVE to see those!
Our medications only come from US-licensed compounded pharmacies, which are highly regulated by the pharmacy board of each state. These are NOT "research only" medications, as seen on many sites/forums. Those types of medications are for use in animals and research labs and are NOT approved for human use!
Dr. Scott knows how to adjust your dosing and manage most side effects. If you need medications called in for nausea, for example, there is NO extra cost. Many programs charge every time they call in a new dose of medication for you. While you are in our program, that is ALL included!
Will My Insurance Cover It?
Your insurance MAY cover all or a portion of the costs. We do not accept insurance, but we can give you the paperwork to file with your insurance for possible reimbursement. We recommend you call your insurance company upfront if coverage concerns you. NOTE: WE HAVE SPECIFICALLY OPTED OUT OF MEDICARE, AND NO PAPERWORK SHOULD BE SUBMITTED TO THEM FOR REIMBURSEMENT.
Are there other costs involved?
We DO require certain labs prior to starting this program. There is NO additional charge if you have lab work from an outside source that we can use.  If you need labs drawn, we can draw them in our office or send you a requisition to take to a lab of your choice.  The cost of the initial panel is $75 if paid to our office.  These labs include CBC, CMP-14 (electrolytes, liver function tests, kidney function), TSH, Lipid Panel, Insulin, and Hemoglobin A1C.  Again, if you need paperwork to file with your insurance company, just ask, and we'll be happy to provide it!  These tests may be repeated with your PCP or our office to continue the program beyond the initial 3 months.
* The terms "One Month and Three Month" programs are approximate. Why? Each person's vial may last a little longer or shorter than anticipated. Most patients do fine with standard dosing recommendations. Many who experience good results on lower doses may choose to remain on smaller dosing than the standard, which can lengthen the time their medication will last. If you are a rare patient who may need to temporarily raise your dose, i.e., if experiencing a stall or having a lot of "food noise," your program length may be shortened a little. Usually, we have other methods to help with that, so the program times we have listed are the norm.
Do you offer financing?
Yes!  We are pleased to offer Cherry Financing.  They approve a large variety of credit scores, and you may qualify for zero % interest.  They also allow you to choose a plan that fits YOUR budget and may be used for any services we offer. You may apply on their website or securely apply here: https://doctorscotts.com/payment-plans.   Most credit answers are given within a few minutes.  We receive no compensation from Cherry Financing.    We also accept HSA, FSA, and Care Credit.
* Prices are current as of publication date.  Since the prices of this medication can vary, please call the office to confirm the latest pricing.  Once your booking fee is received, your price will be locked in for 2 weeks.
**Because this medication is specially compounded and currently in short supply,  there is a non-refundable $200 booking fee for this appointment.  The $200 booking fee will be applied towards the cost of the program at your first visit.  Should Dr. Scott not qualify you medically for participation in this program, your $200 will be cheerfully refunded, or you may apply the payment to another program. 
Note: 1 complimentary re-schedule is allowed if your appointment is changed a minimum of 48 hours in advance. After that time, a new booking fee will be required to reschedule.