Dr. Scott saw a need for easier personal access to lab testing; a place where people can come in and be tested in an anonymous, hassle-free environment, without the additional expense of an office visit. With this in mind, he established Dr. Scott's Lab Testing Facility. Call for pricing.
Order Lab Tests Online – No Doctor's Visit Required
Step 1. Choose the test(s) you want and pay online
Step 2. Within 3 hours, receive a lab requisition from our office
Step 3. Come to our home office or to any LabCorp throughout the US
Step 4. Receive your results by email, within 24-72 hours (depending on test ordered).
Option: Phone review of results with Dr. Scott, $49.00
Tests results are confidential and given only to you, the customer.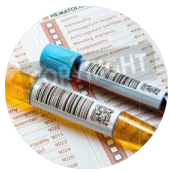 Nationwide Lab Testing
You can order lab tests online and have orders sent to any Labcorp in the country. You Are In Charge!
Results are typically available for pickup within 24-72 hours at our office or can be mailed or faxed.
Lab Test Panels Available (click on the test to order)
If you're in the Charlotte area, please stop by any of our office at 6640-G Old Monroe Rd., Indian Trail, North Carolina, 28079
Need Help?
Call us at 704-282-9355 or email us at info@doctorscotts.com