Online Booking – In today's fast-paced world, convenience is a highly valued commodity. At Dr. Scott's Restorative Health, we understand the importance of your time and are committed to providing you with a hassle-free booking experience. That's why we're excited to introduce our new online booking system, empowering you to schedule appointments at your convenience.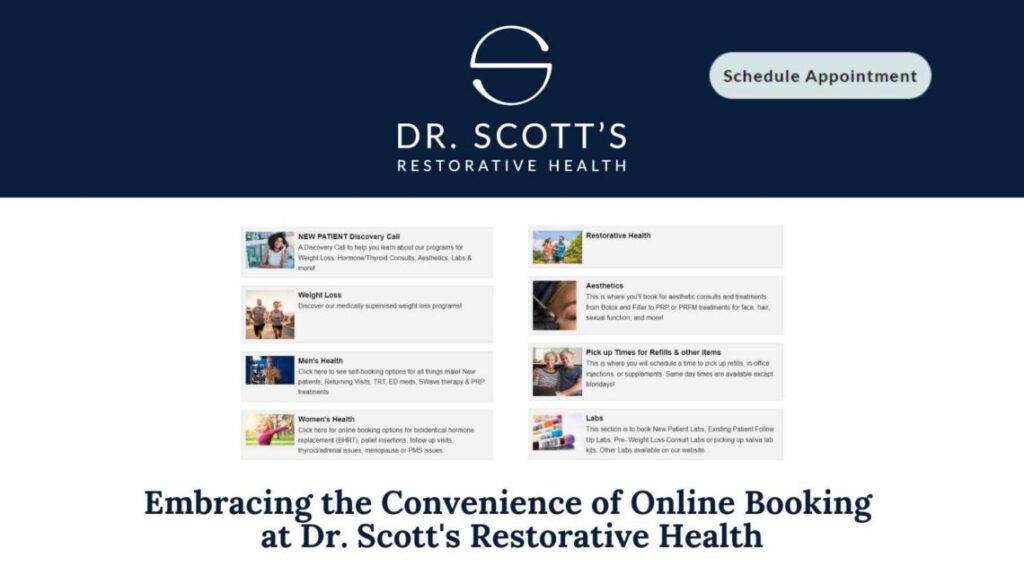 Online Booking – A Comprehensive Range of Services at Your Fingertips
Our online booking system provides seamless access to a wide range of our services, including:
Schedule Your Appointment: Schedule an appointment to learn more about our comprehensive range of services, from hormone replacement therapy to aesthetic treatments.
Weight Loss Programs: Discover our medically supervised weight loss programs and embark on a journey to achieve your weight loss goals.
Men's Health: Book appointments for all things male, including TRT, ED meds, SWave therapy, PRP treatments, and more.
Women's Health: Explore online booking options for bioidentical hormone replacement therapy, pellet insertions, follow-up visits, thyroid/adrenal issues, menopause or PMS issues.
Restorative Health: Revitalize your health with our restorative treatments, BHRT pellets, weight loss services, and more.
Aesthetics: Book aesthetic consults and treatments, from Botox and fillers to PRP or PRFM treatments for face, hair, sexual function, and more.
Pick-Up Times: Schedule convenient times to pick up refills, in-office injections, or supplements. Same-day times are available except Mondays.
Labs: Book New Patient Labs, Existing Patient Follow-up labs, Pre-Weight Loss Consult Labs, or pick up saliva lab kits. Other Labs are available on our website.
Convenience and Simplicity
Our online booking system offers a multitude of benefits, including:
24/7 Availability: Schedule appointments at your convenience, any time of day or night.
Streamlined Process: Avoid phone tag and seamlessly book appointments online.
Real-time Availability: View real-time availability and select the most convenient appointment time for you.
Reminders and Notifications: Receive reminders and notifications to ensure you don't miss your appointments.
Personalized Care for Your Optimal Well-being
At Dr. Scott's Restorative Health, we prioritize personalized care and are committed to helping you achieve your health and wellness goals. If you're seeking a comprehensive approach to healing, encompassing weight, hormones, positive aging, nutrition, and non-invasive aesthetic treatments, contact our office at (704) 282-9355 (WELL).
Experience the convenience of our online booking system and take the first step towards a healthier, happier you.
Please find us on Facebook and Instagram to keep up with our specials and offerings.