Ever wonder how models, actors, and other celebrities have an almost surreal glow about them? I'm not talking about a photoshopped glow, either. I'm talking beautifully smooth, red-carpet ready, skin! There are many different ways of achieving that look, but I can almost guarantee part of their pre-carpet prep would include this treatment as part of their skin prep. What is it? DERMAPLANING!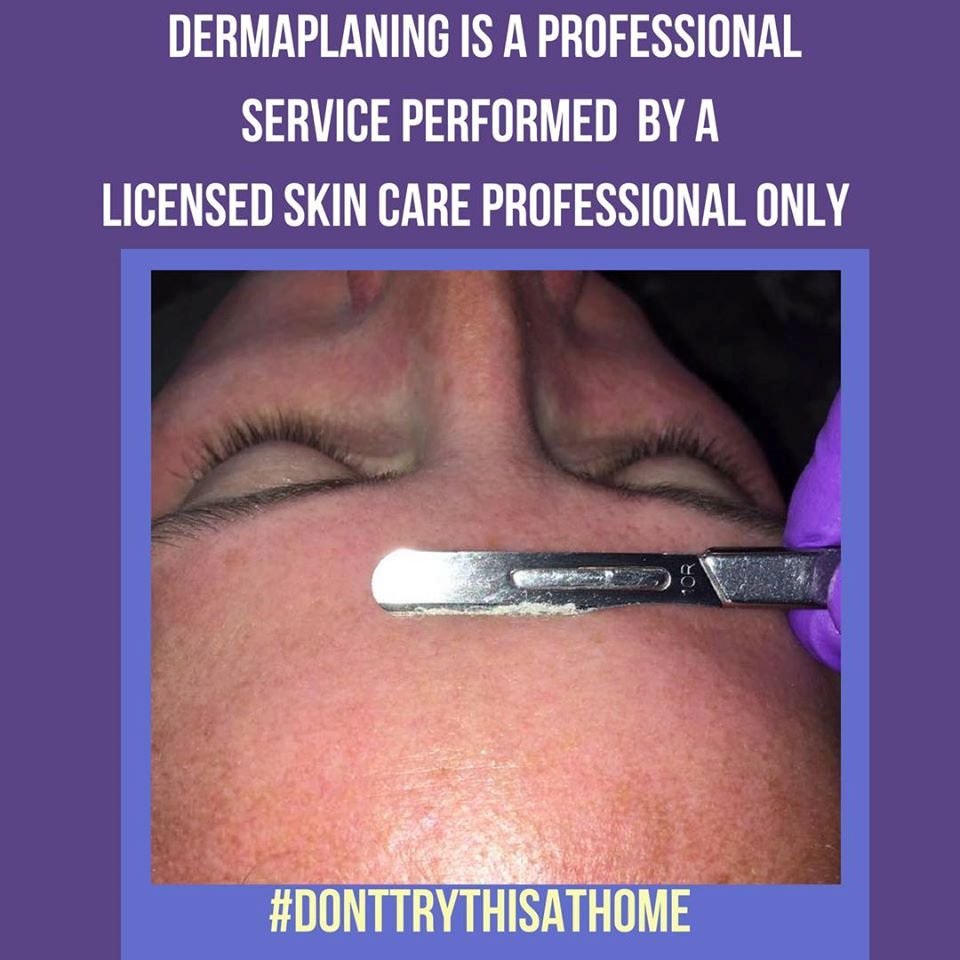 WHAT IS DERMAPLANING?
Dermaplaning is a type of exfoliation treatment performed by licensed medical professionals, that consists of gently pulling a special scalpel or razor blade across the surface of the skin. It's similar to the process you use any time you shave, only the blade sits even more snugly to the skin, allowing it to pull up debris and dead skin cells. It may sound scary, but the procedure is extremely safe as long as you see an experienced provider. Medical professionals who deliver dermaplaning treatments are specially-trained to use the blade safely and accurately, ensuring your skin is protected from start to finish. In North Carolina, this service cannot be performed by anyone who does not have the oversight of a physician. This is yet another treatment we can offer that many spas cannot because they do not have MD oversight.
Clients often turn to dermaplaning over other treatments, like chemical peels or deep-cleansing facials, when they need fast results, and no downtime. This treatment is also good for sensitive skin or those who cannot tolerate chemical or granulated exfoliants. It's quick, easy, flexible, and pain-free! It is a GREAT stand-alone treatment or as an add-on, prior to receiving other treatments such as facials, Microneedling, etc. It helps unclog and smooth skin, so corrective products will be more effective. Patients often comment about how much smoother their skin looks and how easily their makeup application is afterward because it is smoother after all the peach fuzz (vellus hair) is removed.
Dermaplaning is safe, most clients don't experience downtime after the end of their treatment process. At most, your skin may appear slightly pink or feel as if you have a mild sunburn for a few hours afterward. Cool cloths, aloe vera gel, and staying out of the sun as much as possible, along with wearing a GOOD sunscreen, should be all you need after your treatment.
FOR INSTAGRAM-WORTHY PICTURES
Pictures are everything these days. From Facebook to Instagram and even just collecting memories to look back on in the years to come, you want to ensure you look your best at every photo opportunity. Dermaplaning treatment is the choice for great looking skin in pictures. A more even tone and texture creates the perfect palette for cosmetics, but it also gives your skin an almost airbrushed look in photos.
Wondering if dermaplaning treatment is right for you? Nearly all clients are compatible with this fast and simple treatment, but patients with acne should check with us first before they book. We may need to help you resolve your breakouts first.
Book your consultation now and truly fall in love with your new skin.
Ready to schedule an appointment?
Give us a call at 704-282-9355.