CLEAR" by SKIN SHEEK™ is a treatment for treating minor skin irregularities, usually in one treatment!
✓ Immediate results within seconds
✓ Minor to no discomfort
✓ No downtime
✓ A fraction of the cost of comparable treatments
CLEAR" by SKIN SHEEK™ works on the principle of attracting liquids through the application of heat. Special probes regulate the application of high frequency directly on the skin's surface. This technology enables our aestheticians to treat minor skin irregularities without penetrating the surface of the skin.
Treatable Skin Lesions Include:
Telangiectasia (capillaries)
Clogged Pores
Skin Tags
Fibromas
Acne
Black / Whiteheads
Sun Spots
Sebaceous Hyperplasia
Rosacea
Cholesterol Deposits
Milia
Cherry Angiomas
Seborrheic Keratosis
Warts
Before and after CLEAR" by SKIN SHEEK™ procedure to remove broken blood vessels around the nose.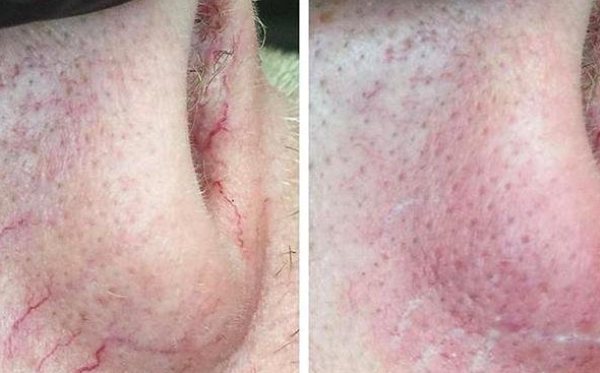 Typically, one treatment is all that is necessary, though results may vary. Treatments take only a few seconds and results are instantaneous for many conditions, including cherry angiomas. Other conditions will crust and heal within 1-2 weeks.
"CLEAR" by SKIN SHEEK™ delivers amazing results, in 1-2 treatments on average.
Watch the video to the left to see how the CLEAR procedure was used to remove cherry angiomas.
Ready to schedule an appointment?
Give us a call at 704-282-9355.