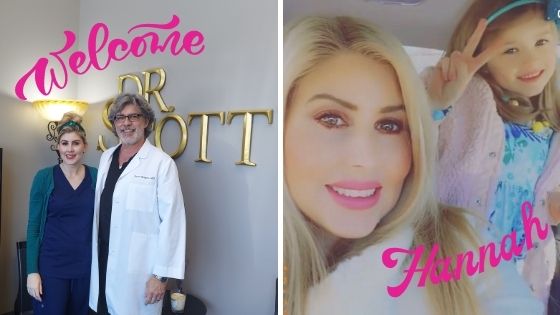 We want to welcome Hannah to our team! First and foremost, her passion is her family, especially her little one, Lily! Hannah specializes in various medical skin care services, and she has had the privilege to work on all types of skin on both men and women and is locally known as a Skincare Savant! Hannah won the City's Best Waxer of Charlotte Award! Hannah has also been a professional Makeup Artist for 15 years. Thanks for helping us welcome Hannah to our team!
WHAT MADE YOU WANT TO GET INTO THE BEAUTY INDUSTRY?
I've always had a passion for helping men and women. As I continued to learn more about skincare, I realized I could show men and women how to look their best while providing the healthiest skincare routine and education available.
HOW LONG HAVE YOU BEEN A MEDICAL AESTHETICIAN AND WHERE DID YOU TRAIN?
I completed my training at Aveda Institute in Charlotte and have been an aesthetician since 2010, but my education has never stopped. I continue to learn as much as possible for my clients to make sure I can assess and meet everyone's skincare needs.
WHAT IS YOUR FAVORITE PART OF YOUR JOB?
The best part of my job is witnessing the transformations and results from helping and educating my clients on their individual skincare needs. I love when a woman or man feels the most confident about themselves from a few quick tips I've shared!
DESCRIBE A TYPICAL WORKDAY FOR YOU.
Every day is different, as my day depends on the clients I'm seeing. I believe in personalizing each visit to the client I'm seeing and creating/crafting the appointment around their needs. I want them to see the best results possible each time they come in for a facial.
Check out our links below!
https://www.beautycharlotte.com
Be sure to keep an eye on our Facebook Pages: Dr. Scott's Restorative Health Center and Beauty Charlotte for the latest specials and deals.
info@doctorscotts.com or call 704-282-9355