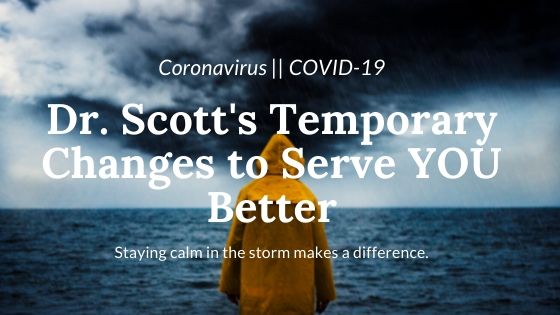 Dr. Scott's Temporary Changes to Serve YOU Better – Covid-19 – No doubt your inboxes are inundated from every angle with emails about COVID-19.
In an effort to continue to provide healthcare for our patients, while keeping our employees, patients, and communities safe, we want to let you know about some new, limited-time provisions for our patients who are practicing social distancing.
Dr. Scott's Temporary Changes to Serve YOU Better – Covid-19 – I realize there is a lot of uncertainty, so I wanted to let you know what we are doing at Dr. Scott's.
1. AT-HOME TELEMED CONSULTS
We have been offering TELEMED and phone visits for hormone and weight loss patients for some time, but realize some of you weren't aware of this. All patients should book future appointments as Telemedicine/phone consults until we advise otherwise. Our phones are continuing to be answered as normal.
We may be adding primary care telehealth visits, as I have volunteered my services to be of use wherever I can and I will keep you updated if this affects my office hours. My commitment is to my patients and your continuity of care will not be interrupted. In most instances, there is no need to visit a doctor's office in this time of social distancing and self-quarantine.
2. NEW PATIENTS
We continue to offer NEW PATIENTS hormone, weight loss, testosterone replacement, and thyroid visits via Telemed. If you have been looking to switch from a brick and mortar location, we encourage you to give us a call to schedule your appointment.
You WILL need a copy of your most recent labs, or you may go to a Labcorp near you, which has stringent sanitation protocols in place for testing. We will issue the proper requisitions for you to take to the lab. The steps will be explained when you call the office to schedule your initial appointment. NOTE: LabCorp has implemented a number of new programs to safeguard vulnerable populations, as well as those who are reluctant to go out, including appointments and a, "Wait Where You're Comfortable" app to minimize the time in public spaces. Click here to find the LabCorp nearest you.
Additionally, we offer in-home testing kits that can be mailed to your home for certain hormones, heavy metals, cortisol, and GI testing. The prices are generally higher for these types of tests, but they are available to you.
3. NEW LIMITED OFFICE HOURS
For all existing and new office patients, our office hours are revised:

Tuesday 9:00am – 1:00pm
Wednesday 12:00pm – 7:00pm
Thursday 4:00pm – 8:00pm

These hours may change depending on the needs of our patients. As everyone knows, I try to be as accessible as possible.
4. LAB DRAWS ARE TEMPORARILY SUSPENDED
We are temporarily suspending lab draws in our office. If your labs are due, please call the office so we can issue your requisition for you to arrange a draw at a LabCorp facility near you.
5. OFFICE MEDICATIONS & SUPPLEMENTS
Ensure your medication, supplements, and supplies are readily available by refilling early. Please check the number of refills left on your medications. Please call at LEAST two weeks before your medication runs out.
Keep in mind supply chains might also be affected, delaying supply for medications and supplements. We encourage patients to plan ahead to ensure they have the medication and supplements they need when they are needed.
For those wishing to pick up medications or supplements in person, we will have a texting system in place for you to do so during our temporary hours. Call our office to schedule pick up or email us at orders@doctorscotts.com NOTE: You MUST have a credit card on file, as we will not be accepting cash during this time. We can send that form to you.
6. PELLET PATIENTS
Dr. Scott's Temporary Changes to Serve YOU Better – Covid-19 – Please know we will be here for our community in any way possible. Our heart's desire is to serve during this time of crisis.
During this time, let's all learn to: Be Mindful. Be Grateful. Be kind. Realize we may have to reframe the things we value when all is said and done. The health and welfare of ourselves, our families, and communities is the most valuable thing of all! We stand ready to do our part.
Yours in health,
Dr. Scott