You will want to know the 7 Reasons You Always Start Laser Hair Removal in the Fall!
1. Laser hair removal works best on untanned skin
Hair removal works by absorbing the heat and energy from a laser, which inhibits the growth of new hair. How effective laser hair removal is for you depends on the contrast between the color of your hair and the color of your skin, i.e., it works BEST on darker hair on lighter skin. Like all things worth working for, it doesn't happen overnight. If you want to feel good about yourself this Spring, you've got to get started NOW! Fall and Winter are the perfect time to start working on hair removal and hyperpigmented spots (or sun-damaged spots). If you are tanning at all, whether in the sun, a suntan bed, or using self-tanners, you can't do laser treatment at the same time. Why? Remember, the laser is grabbing onto pigment, and it can't distinguish the pigment of dark hairs on your arms, face, back, etc., from tanning pigment. Timing is crucial, not only for hair removal but for photoaging spot removal, as well! So while you are all covered under your cute winter garb, make an appointment to get Spring- and Summer-ready!
2. Hair removal – it's not a ONCE and DONE treatment
It generally takes 5-10 treatments, about four weeks apart, for each session, as they are in all different phases of growth. Don't panic; you're not too late to get a great start IF you start NOW! Now is the time to get into the routine!
3. Hair removal is not just for women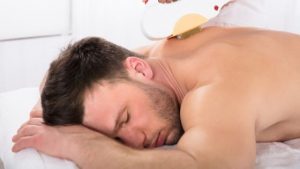 Hair removal for men is trending BIG this year for the back and chest. Did you know an average guy will spend almost $6K over a lifetime shaving his face? Plus, you will spend an average of FORTY-FIVE DAYS of your life shaving! And that's 45 days, ONLY if you neglect your mansculpting duties! So save yourself some time and convenience by scheduling an appointment for laser hair removal. Waxing is another option.
4. Hair removal – it's not just for the arms and legs
Hair removal is perfect for underarms, face, chin, mustaches, arms, legs, etc. But let's not forget girlscaping! We hate the bumps, the nicks, the last-minute date thoughts of whether you remembered to take care of your lady parts! Save yourself some trouble, time, and money and buy some confidence "down under." For peace of mind, go ahead and zap it and be done with it, unlike waxing, which needs to occur frequently. It's one less problem to have to think about in our daily routines. If you are a newbie to the silky, smooth vajajay and beauty bum, let me say that sometimes you may have a little irritation after the first couple of treatments, and your practitioner will discuss how to lessen this. You will be thankful come bikini-time that you took care of this now!
5. Best to avoid excessive sweating and pools with chlorine
Because extreme heat can aggravate a newly-lasered area, you'll have better results without having sweat running from every orifice in 110-degree heat. Chemicals from pools and hot tubs can be irritating to newly-lasered skin. It will be much less tempting in the Winter to go swimming. You'll be so happy with your results when YOU look glowing and smooth, while your friends are sporting those annoying bumps. Make your appointments now, ladies!
6. Budget
It can get expensive to treat all of your body parts. If you start now, it will be easy to fit treatments into a winter budget. We offer significant package pricing discounts, so the more areas you treat, the more you save! You can even set up your credit card for auto-pay for your monthly treatments, so you'll barely miss the expense.
7. So much to do, so little time
There are so many other treatments you will want to have done as the holidays approach, which are not sun-sensitive and will polish you off for a great glow for the holidays AND for summertime! You can even do them at the same time as your hair removal treatments. Here are a few suggestions: Signature Facials, Dermaplaning, Peels, Microneedling, RF for Back Fat, PDO for lifting sagging jowls, tummies, arms, etc. We invest in everything else, why not something we live in and look at every single day!
Repeat after me: Fall/Winter is the time to get started!
Call Dr. Scott's to make an appointment for a FREE consultation and pricing! It's also a GREAT gift that you and your significant other, spouse, or best friend can give each other for a special occasion. Those that are smooth together groove together! Hope to see you soon!
Be sure to keep an eye on our Facebook Pages: Dr. Scott's Restorative Health Center and Beauty Charlotte for the latest specials and deals.
DonnaPowell@doctorscotts.com or call 704-282-9355
*Disclaimer – Any laser hair removal is not 100% permanent throughout a person's entire life, as hormonal changes determine hair growth. Most can expect about a 90% decrease in hair growth, dependent upon the cycle of the hair follicle and which treatment area we have lasered.